Pastoral
Pastoral Support Team
At The Arbours Primary Academy, we continue to work in supporting and nurturing our pupils, to help them achieve their full potential. We believe that the pupils will leave The Arbours Primary Academy as confident and resilient young members of society, who are ready and determined to enter secondary school with the knowledge and skills to succeed in later life.
Meet our Pastoral Team
If you would like to speak to one of our Pastoral Team they can often be found on the main school gates each morning or you can request a call via the main school office team.
Intervention Programmes at The Arbours Primary Academy
Some of the intervention programmes that we offer are:-
Social Skills Development
Anxiety Management
Resiliency Improvement
Behaviour Support
Loss, Separation and Bereavement Support, including Family support and Crisis Intervention
Health and Dietary Support
Protective Behaviours
Helping Hands for Children
Play Buddies
Drawing and Talking Therapy
Relax Kids
Cognitive Behaviour Therapy
Emotional Literacy Training
Parenting support
Please note these lists are not exhaustive. Provision, programmes and interventions are both flexible and responsive in order to meet individual need.
My Family Coach
We use My Family Coach to help our parents and carers understand their children's behaviour. My Family Coach is a free website written by behaviour experts with 20 years' experience working with over 5,000 schools. My Family Coach will support you through the tough times, inspire you with new ideas, and share practical tips to make parenting that little bit easier.
Pupil Pastoral and Personal Development Days / Weeks
Over the past year we have taken a whole school approach to celebrate worldwide event days and weeks collaboratively and we will be doing the same this year.
2021-2022
Anti bullying week: Nov 2021
Odd socks day: Nov 2021
Children's Mental Health Awareness Week: Feb 2022
Dress to Express day (in relation to children's mental health week): Feb 2022
Safer internet awareness day: Feb 2022
Red Nose Day: March 2022
World down syndrome day: March 2022
Random acts of kindness month: May 2022
Healthy Eating week: June 2022
2022-2023
Mcmillan Family Breakfast and cake sale: September 2022
Anti-bullying week: November: 2022
Christmas Jumper day: December 2022
Mental health week (growing together) February 2023
Random Acts of Kindness day February 2023
Safer Internet day February 2023
Young Carers Action day March 2023
Red nose day March 2023
The Den
The Arbours Primary Academy is a safe and secure environment throughout. The Den is a place for pupils of all year groups to access for that extra emotional support. Our pastoral team offers a range of co-ordinated and play-based activities to support and nurture individual pupils to develop their social, emotional and behavioural skills.
During lunchtime, pupils of all year groups can access The Den for lunch club where they can play games, take part in creative activities, or grab a book to sit and read in the reading corner. The Den opens up an opportunity for pupils to gain and develop friendships across all year groups. Whilst offering an inside space to access over the lunchtime hour.
Peer Supporters
During lunchtime Year 6 students offer a mentoring session for all children in school. This is a mentoring opportunity for Year 6 children. They follow an application process. Parents are involved in the application process and will have an understanding of the role the students have. Year 6 students are supported by the inclusion team to offer pastoral mentoring to younger children in school.
Play Leaders
Play leaders are implemented following an application to offer support and play ideas for the younger year groups on each playground. These children work closely with the inclusion team to update their ideas and skills on a regular basis in order to support social times.
Young Carers
At The Arbours Primary school we believe that all children and young people have the right to an education regardless of what is happening at home. When a child looks after someone in their family with a history of long-term physical or mental ill health, a disability, alcohol abuse or substance abuse the young person may need some extra support to help them get the most out of school.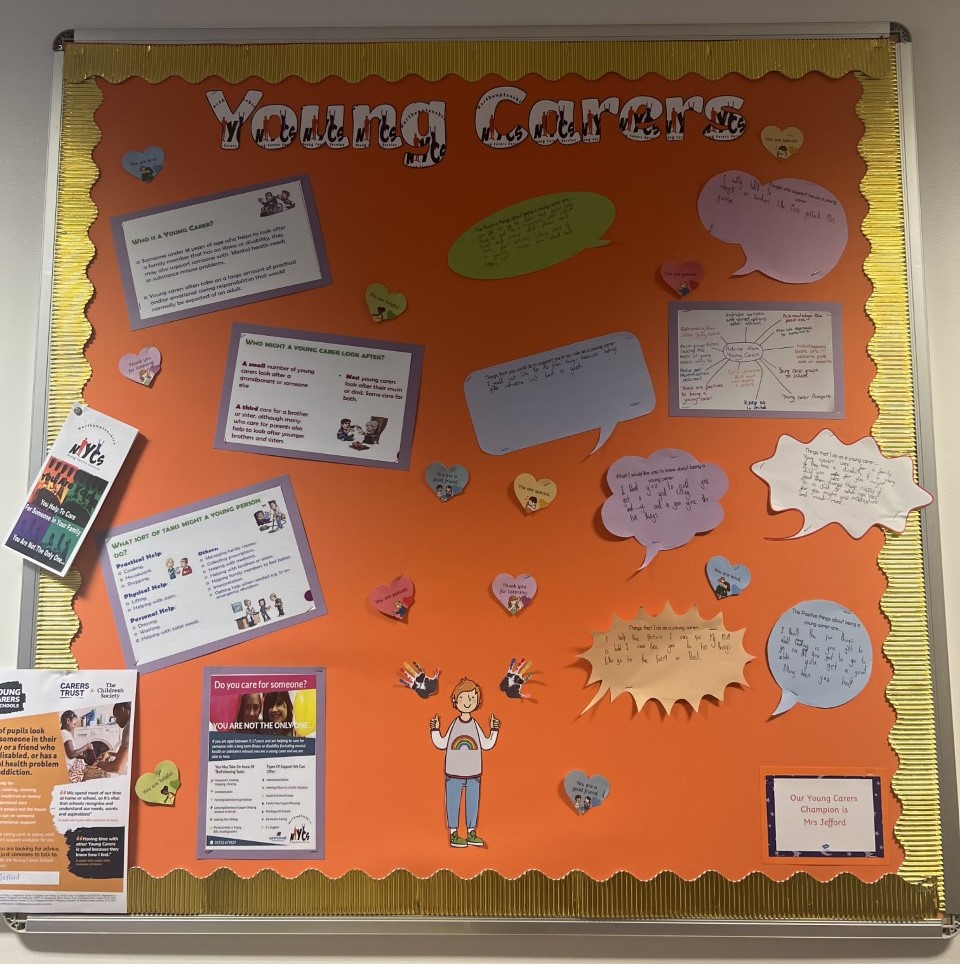 Defining a Young Carer
A Young Carer is a student under 18 years of age who helps to look after a family member or neighbour who is disabled, physically or mentally unwell or has a substance misuse problem. Caring can involve physical or emotional care, or taking responsibility for someone's safety or wellbeing. The level of responsibility assumed by a Young Carer is often disproportionate to their age and at a level beyond simply 'helping out' with jobs at home, which is a normal part of growing up.
Mrs Jefford is available for any child/young person, parent or family member who wishes to discuss their family circumstances so that we can help the child/young person in achieving their potential.
Celebrating Young Carers
We have celebrated Young carers within our community with our whole school assembly hosted by Northamptonshire Young carers, as well as our Young Carers Action day held in school on 16th March.